Latest News
Covid-19 (April 2020)
Read the HSE's latest advice, including how to manage the health and safety of workers during the Coronavirus (COVID-19) pandemic, here.
Health and Work

Public Health England (PHE) and The Work Foundation have published a series of infographics looking at the link between health and wellbeing and working life. Topics covered include mental health, musculoskeletal disorders and the health of working-age employees. View all of the infographics here.
Are "Cool" Offices a Ticking Time Bomb?
Adult slides, table football and relaxation pods – companies are racing to out-do each other to win the title of the coolest office, but are they putting their employees at risk in the long-term?
Don't get me wrong, companies that invest their time, effort and money into creating beautiful and inspiring workspaces for their employees should be praised and the column-inches these offices garner are very well-deserved. However, in bringing home touches to the office and blurring the lines between the corporate world and the "real" world, these new workspaces could prove a ticking time-bomb for the health and wellbeing of workers. Furniture that doesn't provide sufficient support to working postures means that businesses are potentially breaking the law and gives rise to an increased risk of their employees developing strain and musculoskeletal disorders over time. It could also prove very costly for employers in the long-term.
What does the law say? Under the Health and Safety at Work etc Act 1974 and the Management of Health and Safety at Work Regulations 1999, employers have general duties to manage and control the risks associated with work-related injury and ill health, including musculoskeletal disorders (MSDs). This means carrying out analysis of workstations to assess and reduce risks, assuring that controls are in place and that information, training and eye tests are provided. Within this, if there are employees regularly using Display Screen Equipment (DSE), for example computers and laptops, as part of their normal work, a compliant chair is required, which, along with other features, is height adjustable and has a backrest that can be height and tilt adjusted.
Communal wooden workbenches and colourful beanbags are replacing the conventional workstation and task chair in many stylish offices. They look good, but often, these seating options do not offer the adjustability of a typical office chair and sitting on them for several hours every day can lead to discomfort and, in more serious cases, pain and long-term conditions. In addition, with more and more companies moving to hot-desking in their offices, it is common to see employees hunched over a laptop at a desk, sitting too low or too high in their chairs. According to Government studies, musculoskeletal disorders are the most common reason for repeat GP consultations and are behind 60 per cent of cases of long-term sick leave. In 2014/2015, MSDs counted for 44 per cent of all work-related illnesses and an estimated 9.5 million working days were lost as a result of work-related MSDs. This results in a loss for companies, which could easily be avoided with some simple steps.
What are some examples of actions employers can take, to ensure that their offices designed to boost mental wellbeing and productivity, while also protecting their physical health and complying with the law?
DSE workstation assessments, which are recommended for those who have their own desk and/ or who have specific conditions, such as MSDs, disability, pregnancy, etc. These will ensure that risks are minimised as far as is "reasonably practicable" and any other possible issues are identified.

Training sessions to provide postural advice to employees with regards to hot-desking and flexible working, which will allow them to set up their workstation as ergonomically as possible, no matter whether they are using a sit-stand desk, conventional desk, or a table in the kitchen area at a client's offices.
Frequent movement within the working day is another control measure to reduce the development of MSDs. Luckily, many cutting-edge office spaces offer a range of working environments, encouraging employees to move, such as high board desks for standing meetings and large, centralised and often boldly-coloured staircases. Remember, "good" working posture does not mean sitting at the PC like a robot.
Workstation Wellbeing Clinic: How to Work Healthy (May 2016)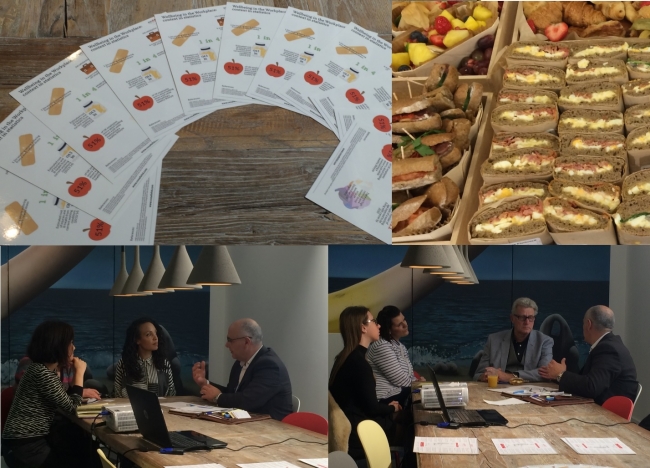 As part of Clerkenwell Design Week 2016, COSAFE LIMITED hosted a series of Workstation Wellbeing Clinics on Wednesday 25th May at SB Seating's showroom. Led by our Lead Consultant, Jac, the clinics focused on healthy working and were well-attended by HR and Facilities practitioners, covering the practical implementation of "wellbeing" in the workplace and the use of workstation furniture and equipment to aid in this. The discussions covered a range of topics within the theme of workplace wellbeing, including the use of ergonomics.
---
Approaches to Obesity in the Workplace - joint event with SB Seating (November 2015)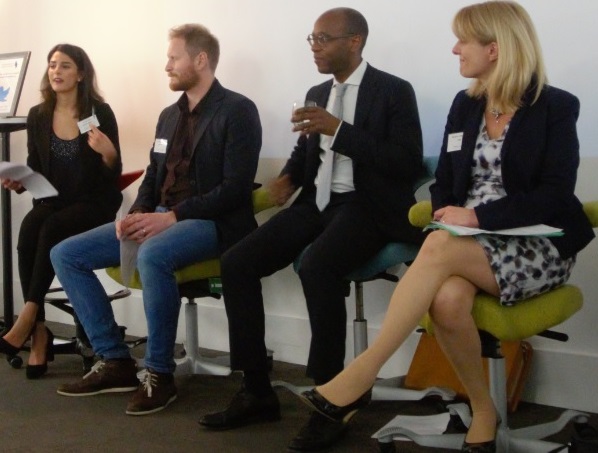 On Wednesday 11th November, COSAFE LIMITED co-hosted a panel discussion and networking event with Scandinavian Business Seating on the topic of "Approaches to Obesity in the Workplace". The event was held at Scandinavian Business Seating's showroom in Clerkenwell. The panel was comprised of Professor Gillian Leng, Deputy Chief Executive and Director of Health and Social Care at NICE, Kevin Charles, Barrister and Director at Crossland Employment Solicitors and Erlend Weinholdt, Lead Ergonomist at Scandinavian Business Seating. COSAFE LIMITED's Xenia Koumi chaired the discussion.
A summary of the discussion can be found here.
---
Into the tunnels at Crossrail Farringdon (September 2015)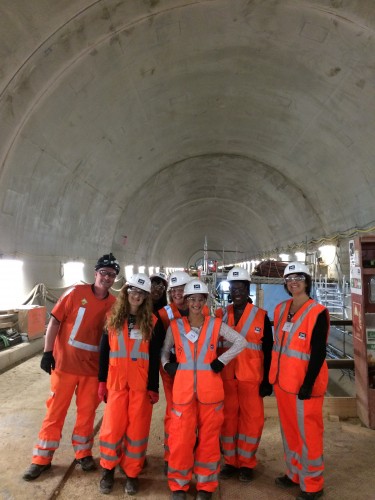 Descending 14 flights of HAKI stairs below ground during the middle of a torrential downpour sounds like the stuff of nightmares for someone afraid of heights, but when I did so during a visit to the Farringdon Crossrail site in mid-September, I felt surprisingly at ease, solely for the reason that I'd already seen how much attention is paid to health and safety on-site.
Myself and fellow members of the Women in Safety and Health group were kindly invited to take a tour of the Crossrail site at Farringdon, which is a major terminus at the heart of the new network. This is especially poignant, given Farringdon's history as the terminus of the world's first underground railway.
One of the first things you notice on-site is how many women there are. This is notable as we constantly hear that despite widespread efforts in the construction industry to address the vast gender imbalance, according to official statistics, the UK has the lowest representation of women engineers of any European country, standing at just 8.5 per cent. More female engineers is an important objective of the Crossrail project - even the tunnelling machines were all named after prominent women! This is an important flagship programme as the UK attempts to address the huge looming shortfall of qualified professionals in its construction sector.
Alongside the mandatory site induction, the group was given a brief, but fascinating, introduction to Crossrail by project manager Linder Miller. Linda outlined several engineering considerations, such as the cutting-edge (excuse the pun) technology used to dig the tunnels, how the Crossrail network was dug under and above existing Tube lines and how such a large-scale infrastructure project can be carried out in such built-up and busy areas with historically-important buildings, while maintaining minimal disruption to local residents, business and transport.
Over the course of the project, Crossrail has worked hand-in-hand with other organisations, including the Museum of London and the RSPB; with the former on archaeological finds of medieval Black Death skeletons unearthed during the tunnelling; and with the latter on the creation of a man-made island in the Thames Estuary for migratory birds, which was made from some of the 7.5 million tonnes of dirt excavated to create the underground network.
After donnning our PPE we made our way underground with Kris Sarmidi to the construction site of the Eastern Ticket Hall. Tunnelling of the Crossrail network was completed here in May of this year and at the moment, the Farringdon section is undergoing waterproofing and the platforms are being built - which will be around twice the length of a standard tube platform.
Cavernous is about the only word to describe what you see underground. It was striking to see how much careful thought has been given to the engineers and maintenance staff, both during the construction phase and once the lines come into use, through the use of innovative materials and techniques. Kris was on hand to answer our questions - we had a lot - and was a great sport with taking photos of us in our fluorescent gear.
Most of the underground as we know it was constructed during the late 19th and early 20th centuries and it's interesting to think how health and safety practices (if any) used during this time compare with those used on the Crossrail project today. There are extremely few similarities I'm sure and the visit confirmed to the group that it's this core focus of health and safety of workers and the general public as part of such a large-scale construction project that explains why the UK is seen as a world leader in occupational health and safety.
(As featured on SHP Online on the 28th September 2015. See the article here).
---
Bariatrics under the radar, but not for long: obesity and the workplace (September 2015)
What is Bariatrics?
To put it simply, it's the branch of medicine that deals with the causes, prevention and treatment of obesity.
According to recent NHS statistics, around one in four adults in the UK is obese and this figure is only set to increase in the coming years.
The UK is the second-most obese nation in the developed world and while obesity is not an occupational disease as such, oversized dimensions of all parts of the body can obstruct safe postures recommended for DSE work and place individuals in ergonomically unsound, high-risk and uncomfortable positions - all of which pose significant challenges for occupational health professionals.
Surprisingly, despite a large percentage of the UK's workforce being classed as obese, approaches to obesity in the workplace are limited to the healthcare sector and emergency services, where staff are trained on the safe handling of obese patients and members of the public.
In June of this year, the National Institute for Health and Care Excellence (NICE) published guidance for employers on how to promote a happy and healthy workforce, which included considerations for mental health, but not for physical wellbeing. This is surprising, given that "wellbeing" has become such a trendy word in the world of occupational health - we've all seen the spread of workplace wellness programmes, which commonly include subsidised gym memberships, healthy options in the staff canteen and lunchtime yoga lessons. It goes without saying that preventing obesity is far better than curing it, however, it seams that already-obese employees have been overlooked completely, both by employers and regulatory bodies.
Why is this?
Employers prefer to shy away from the issue of obesity, fearing that they may be seen as discriminatory or too invasive in their employees' personal lives. It doesn't help that in the UK this is a legal grey area and companies lack guidance from above, but it may be prudent for employers to look to the US, where there is a legal framework already in place. Recent landmark legal cases at the EU level show that it's not long until this becomes a very real issue for British businesses.
Obese employees have specific requirements in the workplace, which take into account co-morbidities (both physical and mental) of obesity and which may reflect adaptations to the tasks that they do and the tools and equipment needed to undertake them. It's widely accepted that employees who feel valued, comfortable and supported in the workplace will be happier and more productive, so it's in employers' direct interests to enable this, through specially-designed risk assessments, to highlight individual need.
Aside from the healthcare sector and emergency services, as previously mentioned, it seems that workplace ergonomics has not quite caught up with bariatrics. Obesity is not "one size fits all" and there are a range of different obese body shapes, each with their own individual solutions in an office or workplace setting. While we are all familiar with office chairs designed for heavier users, specially-designed desks and other furniture is harder to find. Carrying out a bariatric task or workstation assessment will identify exactly what tangible and intangible changes are needed.
A tactful and discreet approach will make all the difference when identifying what an obese employee needs. It's important to assess their specific requirements without making them feel as though they are being targeted or singled out from their colleagues. This may require addiitional training for Facilities or HR Managers, to ensure that this process goes as smoothly as possible. It's only a matter of time before bariatrics becomes a hot topic in occupational health, so it's a smart move to be ahead of the game.
We are leading in the field of workplace ergonomics linked to bariatrics and offer services including in-depth bariatric worker DSE workstation assessments and DSE assessor training specifically for bariatric requirements. Please see our dedicated page on 'Bariatric Worker Assessments', or get in touch if you'd like to discuss this in further detail.
(As featured on SHP Online on the 22nd September 2015. See the article here).