Our courses are run in a friendly atmosphere and are made fun and relevant by our enthusiastic trainers. They can either be run at your site or, if you prefer, we can arrange suitable external venues to suit your requirements.
All teaching is delivered in accordance with currently accepted first aid practice, the Resuscitation Council (UK) Guidelines 2015 and in accordance with The Health and Safety (First Aid) Regulations 1981.
First aid at work - The Law
The Health and Safety (First-Aid) Regulations 1981 require employers to provide suitable first-aid equipment, facilities and personnel to enable immediate assistance to be given to employees if they are injured or become ill at work. Regulation 3(2) states that in order to provide first aid to injured or ill employees, "...a person shall not be suitable unless he has undergone -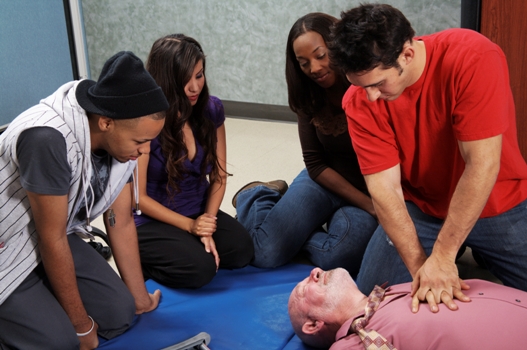 1) such training and has such qualifications as the Health and Safety Executive may approve for the time being in respect of that case or class of case, and
2) such additional training, if any, as may be appropriate in the circumstances of that case"
The document, www.hse.gov.uk/pubns/l74, on the HSE website provides further information.
Training courses
If you have identified that first-aiders are needed in your workplace, they must have a valid certificate of competence in FAW or emergency first aid at work (EFAW). EFAW training enables a first-aider to give emergency first aid to someone who is injured or becomes ill while at work. FAW training includes EFAW and also equips the first-aider to apply first aid to a range of specific injuries and illnesses. The findings of the first-aid needs assessment can help you decide whether your first-aiders should be trained in FAW or EFAW.
The table on the HSE website, www.hse.gov.uk/pubns/indg214, suggests what first-aid personnel to provide under different circumstances.(source: The Health and Safety Executive website).
Please explore our courses below, which we offer at very competitive prices, to find the one most suited to your needs. Contact us for further information and we would be delighted to discuss your needs and help you choose the perfect course for your requirements: